Rhona Jordan
Biography
Rhona first experienced Guided Imagery and Clinical Hypnosis when she was scheduled for a serious cancer surgery. The imagery was powerful and Rhona breezed through the procedure and recovered ahead of schedule. This life-changing event motivated Rhona to learn more about these powerful techniques.

An avid believer in the power of imagery, Rhona stays on the cutting edge. Her academic background spans the study of Regression Therapy in New Delhi, India, to her recent graduation from Chopra University, where she qualified as a global Primordial Sound Meditation instructor for the Chopra Center for Wellbeing.

Rhona currently works from four clinics in Orange County, California, offering imagery and hypnosis to patients during their medical procedures, and maintains her private practice in Orange. She also offers free monthly meditations at a local hospital in Newport Beach.

Awarded Humanitarian of the Year by the Trauma Intervention Program for her work with trauma victims and first responders, Rhona is a sought-after motivational speaker. You can reach her at her website: www.rhonaimagery.com or by email at: Rhonaimagery@aol.com
Books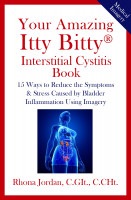 Your Amazing Itty Bitty® Interstitial Cystitis (IC) Book
by

Rhona Jordan
Imagery has a profound physiological effect on IC patients, influencing the body's systems: immune, endocrine, nervous, cardiovascular, respiratory and gastro-intestinal.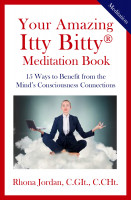 Your Amazing Itty Bitty® Meditation Book
by

Rhona Jordan
Meditation is not a religion; it is a spiritual practice as we connect the body, mind, soul and spirit with all of creation. Meditation can: Increase brain tissue volume, enabling you to make better life choices; Increase telomerase activity, which lengthens your life; Promote inner calm and physical well-being. If you want to learn more about meditation, pick up this exciting and informative Itty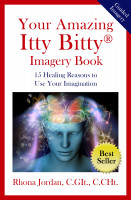 Your Amazing Itty Bitty® Imagery Book
by

Rhona Jordan
In this thought-provoking Itty Bitty® Book, Rhona Jordan identifies 15 reasons to use the power of your mind, among them: Heal at home with no down time, side effects, or added expense. Manage chronic and acute pain. Reduce or eliminate stress, fear or depression. Improve brain health. Pick up this book today and learn to use your imagination as a powerful resource for healing.
Rhona Jordan's tag cloud