Richard Roth
Biography
Richard Roth is a pilot, instructor, airshow performer, and warbird rebuilder. British born, but now a resident in the United States, he served 14 years with the Royal Air Force.

He has written for Hollywood and the Swedish film/television industry, and currently flies sailplanes, gliders, and other interesting aircraft from Tucson in the American Southwest.
Books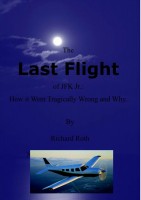 The Last Flight of JFK Jr: How it Went Tragically Wrong and Why
by

Richard Roth
John F. Kennedy Jr.'s last flight told in story form, as narrative/creative nonfiction, of the days leading up to that fateful night and the flight itself.
Richard Roth's tag cloud