Richard Parker
Biography
Richard D. Parker, author of the "Temple Island Series," an alternate universe adventure, toils during the day at Washington University in St. Louis where he is a department manager at the university bookstore. In the evenings however, he transforms and is carried away to one of the many worlds which reside only in his head. The "Red Planet," by Robert Heinlein was Richard's very first book not assigned by a teacher and he's been hooked on science fiction ever since. When he's not writing, Richard enjoys hiking, biking and reading all types of fiction genres including thrillers, horror, military, historical and fantasy. He also enjoys popular nonfiction science books. Richard D. Parker currently lives in St. Louis, Missouri with his wife Kathy, his daughter Alex, his cat Tasha and last but not least, Tonya the turtle, who has the run of the house.
Where to find Richard Parker online
Books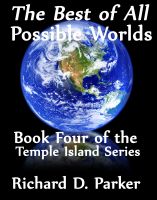 The Best of all Possible Worlds
by

Richard Parker
For seventeen years Gwaynn and Samantha have ruled peacefully over the lands of the Inland Sea as High King and Queen. All is well. The twins, Arnot and Avigail are nearly finished with their education on the Temple Islands. But when Galen Dawkins suddenly appears in her dreams, Avigail is determined to go to him, to save him. In her desperation she sets two worlds on a collision course.
Richard Parker's tag cloud