Richard L Noble
Biography
Mr. Noble is a coffee-steeped author born in the United States and currently residing in the Midwest. When not writing, he will often travel and can be seen listening to tall tales and searching for trolls under bridges. To keep himself sane, he often makes wishes on the first star of the night, believes in magic and follows rainbows to their ends. Occasionally, Mr. Noble gets his drink on at the Marvel Bar, where he normally leaves mistaking fiction for fact. Don't hesitate to contact him via email at richard.l.noble@me.com.
Books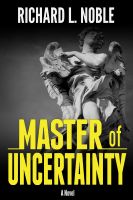 Master of Uncertainty
by

Richard L Noble
Timid, sixteen-year-old Mark Acanth comes to Manhattan with a promise to be considered for priesthood under Pope Pius XIII. In search for records of his birth, Mark discovers a hidden passage and a mysterious book, hinting he may be more than anyone thinks. Soon, he is at the center of a massive global conspiracy while being hunted by an ancient secret society known as the Hierarchy.
Richard L Noble's tag cloud