Rishi Gupta, MD FRCSC
Biography
Dr. Gupta has received awards for his work in medical education, research, teaching, as well as excellence in patient care. He has a keen interest in preventing physical burnout, achieving a good work-life balance, and strategies to improve overall patient satisfaction. He was instrumental in the creation of a mentorship program for junior Canadian retina attendings. Outside of work, Dr. Gupta enjoys sports (playing and watching), music (playing and listening), and hanging out and making funny faces with his son Vikram.
Books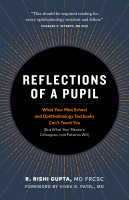 Reflections of a Pupil
by

Rishi Gupta, MD FRCSC
Reflections of a Pupil weaves together the rich tapestry of lessons that Dr. R. Rishi Gupta has learned from his unique journey through the art and science of medicine. Readers will discover how to juggle the surgical, clinical, practical, and interpersonal demands of their specialties—while still maintaining a positive work-life balance.
Rishi Gupta, MD FRCSC's tag cloud