Robert Coram
Biography
Robert Coram has been interested in fossils since the age of five, when he scavenged some fossil scraps from a neighbour's gravel drive. Somewhat later, he studied zoology at Oxford University and obtained a PhD in palaeontology from Reading University. He publishes regularly in scientific journals and over the years has made many important fossil discoveries, including rare fossil insects and dinosaurs, and made several TV appearances. He lives in southern England, close to the 'Jurassic Coast' World Heritage site.
Books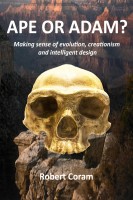 Ape or Adam?: Making sense of evolution, creationism and intelligent design
by

Robert Coram
There is still debate over how, and when, humans and other life arrived on Earth. Were we created a few thousand years ago, or did we evolve over millions of years? What should children be taught at school? This is an easy-to-read guide to the science behind our origins. It will appeal to anyone who is not sure what to believe, or is simply interested in the fascinating history of our planet.
Robert Coram's tag cloud