Rob Durham
Publisher info
Rob Durham is a touring stand-up comedian and a high school English teacher, so his students learn right away not to heckle (or at least to do it with correct grammar). On top of his two careers, he's an up-and-coming author with the highly-praised instructional guide to comedy, Don't Wear Shorts on Stage, under his belt, and his fourth book, Around the Block, on the way. With a smile that says "I didn't get my braces off until I was 27" and a hairline that's bullied into staying where it is for now, Rob's innocent look helps him vent about his career as a teacher, his dating history, and his spunky wife. For almost two decades, Rob has built an original act that favors the cleaner side of comedy but should still be kept away from the ears of his students.
Where to find Rob Durham online
Books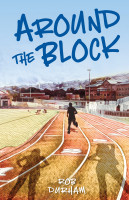 Around the Block
by

Rob Durham
Seventeen-year-old Mark Lender loves running track but has no track record with the ladies—that's something he's looking to change. He is shocked when the interest of two girls takes him from Mr. Backstage to Mr. Centerstage. Katy Mancer seems obsessed with him, but she's oblivious to fashion—or reality, so her advances only give Mark's bullies a bigger target. Then there's Angel Hayden, a six-foo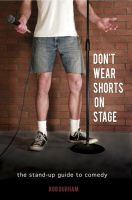 Don't Wear Shorts on Stage...The Stand-up Guide to Comedy
by

Rob Durham
The previously unwritten rules of stand-up comedy are now explained for anyone wanting to make money in the business. It also gives comedy fans an inside look on what the lifestyle is really like.
Rob Durham's tag cloud