Robert Beard
Biography
Born and raised in New Orleans, Louisiana, Robert W. Beard, author of the Shawn Barton Adventures "A Boy Named Shawn" (Book 1) and "Halcyon" (Book 2), attended Georgia Tech in Atlanta, where he earned a B.S. in Physics. After three years as a commissioned officer in the U.S. Navy, he pursued an academic career–-M.A. from Louisiana State University and Ph.D. in Philosophy from the University of Michigan. Through the years, he held appointments at Princeton, Michigan, Iowa, Louisiana State, and Florida State universities. He and his lovely wife now live in Tallahassee, Florida.
Where to buy in print
Books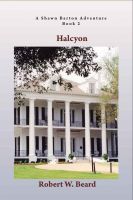 Halcyon
by

Robert Beard
Brian Tanner was not pleased when his editor assigned him to interview Shawn Barton, whom he had never heard of. He found Shawn delivering a lecture on theoretical Physics before a large audience. Shawn Barton was far more than a talented jock. One of Shawn's exploits included making his first movie. After the loss of his own family, Shawn found security in the home he had built--"Halcyon."
A Boy Named Shawn
by

Robert Beard
After Shawn's parents die in a plane crash, he goes to Florida to meet a man whom his mother dated when she was a student at Florida State University. He agrees to become Shawn's guardian. By mistake, Shawn plays in a college football game and becomes an overnight sensation. The remarkably intelligent boy develops an idea for a new source of electrical power that makes gas engines obsolete.
Robert Beard's tag cloud