Bob Biederman
Biography
Bob Biederman, recent medicare applicant, was born in Boston, graduated Newton High School in '64, a member of the Phi Chapter of Alpha Epsilon Pi fraternity at UMass, Amherst in '68, and the Brooke Army Medical Center at Fort Sam Houston in '69 where he graduated 3rd in his class of 500 at Colonel Pixley's Combat Medical Training program. Never setting foot in Viet Nam he spent his active duty treating young Americans abruptly returning after overly-intimate experiences with napalm at the Department of Defense Burn Center, thus ending his formal education. He went on to serve as a short order cook, copywriter, and "AdMan Magnifique" shuttling between 6 jobs in 5 years. He began Papers, Inc, his first publishing venture in 1972 and promptly embraced financial failure just 16 months later, but not before working with respected writing agent Virginia Kidd to publish the first poetry of Ursula LeGuin, the earliest work of Mark Helprin, Isaac Asimov, Aleksandr Solzhenitsyn, Scott Rosenberg, Ambrose Bierce, Merrill Kaitz, Danny Schechter "The News Dissector" and Laurence Janifer, amongst a dozen other lesser known cutting edge writers and poets. Financial failure brought him to the streets of suburban Boston as a cab driver and Chinese food deliveryman supporting a wife and child. Relaunching his publishing career 4 years later found him as General manager of Beacon Publishing, a chain of suburban newspapers, and then off on his own becoming the preeminent national publisher in the condominium/HOA field where he was threatened with multiple lawsuits, defended one and fended off the rest. After establishing publishing offices in Massachusetts, New Hampshire, Florida and Southern California, he quietly sold his company for a dollar and was exiled to Orange County, California where his dutiful wife continued to support him in the manner to which he had become accustomed. Orange County offered little other than great weather and the opportunity to indulge his inner needs through work with the Trauma Intervention Program, editing assignments for the Sydney Jewish Museum (right, the one in Australia, don't ask…) and the opportunity to begin publishing his own work in the form of Marbles. He enjoys ongoing cordial relationships exclusively with young children and domestic animals. For more extraneous information visit the web site www.RobertBiederman.com.
Where to find Bob Biederman online
Books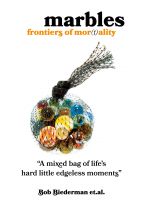 Marbles
by

Bob Biederman
Frontiers of Mortality, the singular memoir by Robert Biederman, is a collection of 21 unforgettable and extravagantly diverse personal experiences. Biederman examines life at inception, at death, and the many moral choices in between. His focus is on family relationships, their evolution and devolution as well as a few comic moments that reflect some of the absurdity in our judgment.
Bob Biederman's tag cloud