Robert C. Foster III
Biography
Author Biography: Robert C. Foster III
An ex-naval aviator and graduate of Bowdoin College, Bob Foster spent his career in advertising at media houses in New York; Time Inc., Newsweek and CBS Network Television. He was the founding advertising director of one of the first regional magazines called On The Sound. Bob left NYC to become publisher of the National Fisherman headquartered in Camden. He served them for a year and a half before creating a magazine prototype, Courtroom USA, for a group of investors.
At the completion of this project, he and his wife moved aboard their gaff-rigged wooden schooner and cruised the Bahamas and the Caribbean for ten years. Later, they spent several years living in Italy while studying the art and architecture of ancient Rome.
Recently, Bob finished four years as marketing director of the Boothbay Harbor Shipyard (previously Samples Shipyard) during the restoration and rebuilding of a number of wooden ships such as the City of Philadelphia's tall ship, the Gazella, the iconic HMS Bounty replica built for the 1964 Marlon Brando movie, and the replica of the pinnace Discovery for the Jamestown Living History Museum in Virginia.
Bob lives on an historic saltwater farm in Maine with his wife, Janet and their Weimaraner, Guenevere.
Books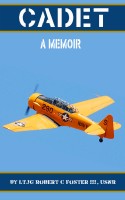 Cadet: A Memoir
by

Robert C. Foster III
Disgraced, he's off to Pensacola, the "Cradle of Naval Aviation." There's a bailout from a burning seaplane. A week later at his new squadron he's involved in the crash of their Beechcraft. One year later he was being carried by stretcher out of a major crash of a DC-3 in Naples, Italy. A pattern?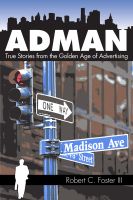 Ad Man: True Stories from the Golden Age of Advertising
by

Robert C. Foster III
(5.00 from 1 review)
With martini glass in hand, Ad Man rips the top off the Wheaties box and plucks the tail fins off the Caddy to tell the true story of what really went on in those offices high above Madison Avenue during the 1960s, the storied age of advertising.
Robert C. Foster III's tag cloud