Robert Petrovich
Biography
ROBERT PETROVICH is a spiritual educator, counselor and canon of the International Community of Christ, and a senior member of Cosolargy International. For over twenty years he has held a position on the faculty of The Academy for Advancement in the Religious Arts, Sciences and Technologies of Cosolargy®.

To order additional copies of this book, or to schedule a talk,presentation, or workshop, contact Robert Petrovich directly byphone (775-786-7431, ext. 105) or email (robert@cosolargy.org).

For information on Cosolargy International, visit www.
cosolargy.org.
Books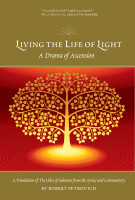 Living the Life of Light: A Drama of Ascension
by

Robert Petrovich
The Odes of Solomon are extraordinary songs of spiritual triumph from the messianic age that continue to resonate with our souls today. Living the Life of Light offers the first coherent modern translation and interpretation of these Odes, with commentary that leads the reader through the messianic drama and process of spiritual regeneration the poet has laid out in his poems.
Robert Petrovich's tag cloud