Robert McCurdy
Biography
Robert McCurdy served as senior house legal counsel to a large Florida hospital and health care system for 30 years prior to his retirement in 2005. Before becoming an attorney, he practiced pharmacy in community drug stores, hospitals and military healthcare facilities. During his legal career, he authored numerous articles dealing with healthcare law, and served as writer and producer for healthcare educational films.
Mountain Tiger is the fifth book in the Jim Colling Adventure Series.
The series, in order, includes: Dog Robber, Rat Line, Ram's Horn and White Eagle. Some of the events in Rat Line are drawn from Mr. McCurdy's experiences as an enlisted man in the U.S. Army Medical Corps in Germany during the Cold War years of early 1960's. He lives with his wife in Cape Coral, Florida.
Series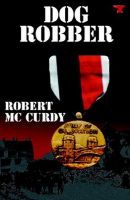 The Jim Colling Adventure Series
by

Robert McCurdy
World War II has just ended, and in the chaos of Postwar Germany, Private Jim Colling finds that the occupation affords opportunities for significant financial gain to a resourceful American soldier with the ability to speak the local language. Elizabeth Hamilton, a beautiful American civilian, enlists his aid to rescue her relatives from Soviet-controlled Poland, Colling reluctantly agrees. So begins the Jim Colling Adventure Series. Don't miss the rest of the Jim Colling Adventure Series!
Books
Robert McCurdy's tag cloud