Roberto Vivo
Biography
About the Author
Sobre el autor

Roberto Vivo Chaneton was born in Montevideo, Uruguay, on July 4, 1953.
He is married and has three sons. He makes his home in Buenos Aires, Argentina, but is a frequent traveler to the United States and numerous countries in Latin America, Europe and Asia.

Over the course of his professional career, he has founded and directed enterprises in such fields as public works, commercial fishing, agribusiness, real estate development, telecommunications and the Internet. He is currently CEO and Chairman of a global social communications media firm.

In the academic world, Mr. Vivo serves as First Vice President of the Board of Directors of the Torcuato Di Tella University in Buenos Aires.

Ever drawn to politics and social issues, he played an active role, as a participating member of Uruguay's Colorado Party, in that country's re-democratization process, both during and after the dictatorship that governed there from the early 1970s to the mid-1980s.

Mr. Vivo is the author of a blog entitled Peace, Justice and the Ultimate Crime (at http://vivoonwarpeaceandjustice.blogspot.com) and of an e-book entitled Short History of World Religions (Amazon, 2012), a simple and succinct history of Humanity that stresses the role of religion in society and politics, as well as in human development and civilization. Indeed, that book might well be considered an introduction to War: A Crime Against Humanity.

Sobre el autor

Roberto Vivo Chaneton nació en Montevideo, Uruguay, el 4 de julio de 1953.
Está casado y tiene tres hijos. Vive en Buenos Aires, Argentina y visita permanentemente los Estados Unidos y distintos países de América Latina, Europa y Asia.

Es licenciado en Administración de Empresas y realizo cursos de postgrado en macroeconomía y otros estudios relacionados con el mundo de los negocios.

En el campo profesional ha sido fundador y directivo de empresas de obras públicas, de la industria pesquera, agrícola, inmobiliaria, de telecomunicaciones y de Internet. Actualmente es CEO & Chairman de una empresa de medios de comunicación de alcance global.

Es Vicepresidente Primero del Consejo de Dirección de la Universidad Torcuato Di Tella.
En el ámbito político y social, ha tenido una activa participación en el proceso de la recuperación democrática en el Uruguay, como militante activo del Partido Colorado.

Ha escrito "Negocios en Red, el Management de la Nueva Economía" (Editorial Norma, Buenos Aires, 2001), numerosos artículos sobre temas empresariales y "Breve Historia de las Religiones del Mundo" (Amazon, 2012), que procura repasar la historia de la humanidad –lógicamente en una versión sintética y simplificada-, en clave religiosa. El mismo puede leerse como introductorio a La guerra: un crimen contra la humanidad.
Books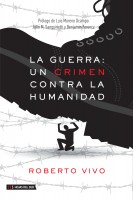 La guerra: un crimen contra la humanidad
by

Roberto Vivo
La guerra: un crimen contra la humanidad, de Roberto Vivo, es una concisa historia de la guerra a través de los tiempos, y de la búsqueda para encontrar una paz activa y duradera. Según Vivo, si hoy en el mundo nueve de cada diez víctimas de las guerras son civiles, se debe considerar toda guerra de lesa humanidad. Estudia las causas de la guerra y ofrece ideas para conducir el mundo hacia la paz.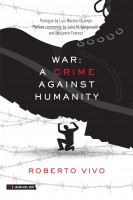 War: A Crime Against Humanity
by

Roberto Vivo
Roberto Vivo's War: A Crime Against Humanity is a concise condensation of the history of war and of the evolution of humanity in its search for enduring and active world peace. Vivo posits that in a world where nine out of ten victims of war are civilians, every war is a crime against humanity. He studies the causes of wars and provides innovative ideas for placing the world on the path to peace.
Roberto Vivo's tag cloud