Robin Bernheim
A native Californian born in Santa Monica, Robin Bernheim has written and produced over 20 television dramas, including "Star Trek: The Next Generation," "Quantum Leap," "MacGyver," "Remington Steele," "She Spies," "Star Trek Voyager," "Diagnosis Murder," and William Shatner's "Tekwar." Over the years, she's had the pleasure of working with television legends both in front of and behind the camera, including actors Edward Woodward, Dick Van Dyke, Andy Griffith, Jack Warden, Patrick Stewart, Scott Bakula, and Dean Stockwell, as well as executive producers Aaron Spelling and Don Bellisario.

In the realm of animation, Robin has penned episodes for "Men In Black," as well as "Extreme Ghostbusters," and recently co-produced and wrote the documentary feature "Little House On The Prairie: The Legacy of Laura Ingalls Wilder," for PBS. While she has been writing and producing for many years on a wide variety of shows, Robin finds it amusing that the majority of her fans either wear a bonnet or carry a phaser.

A graduate of Stanford University with an MBA from UCLA, Robin lives in Encino, California, with husband David, daughter Katherine and mutt Frisky. In her spare time, Robin enjoys helping her daughter with Geometry, and is quite proud to be one of the few moms in 10th grade who can still do the math.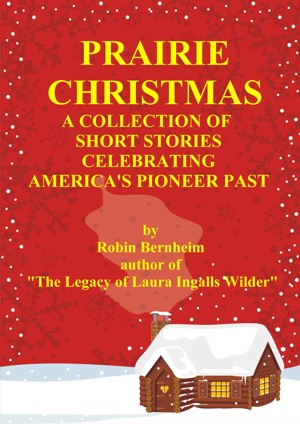 Prairie Christmas: Short Stories Celebrating America's Pioneer Past
by

Robin Bernheim
Journey to America's frontier past and join five families as they celebrate the simple joys of Christmas. Penned by award winning screenwriter Robin Bernheim ("Quantum Leap", " The Legacy of Laura Ingalls Wilder"), these charming stories are perfect for young readers and the young at heart. If you're a fan of "Little House on the Prairie", you'll love these heartwarming tales of times past.