Rod Cameron
Born Christmas Eve, 1951, in Otorohanga New Zealand, Roderick Leighton Cameron attended Wanganui Boy's College [1966 – 70], and worked as a Forest Research Technician. His job supported a slowly gestating, magnificent obsession with absolute philosophy.

Cameron was a member of the Values Party from 1974 to 1977 – an early Green Party that ceased around 1980 and reappeared as the Green Party. The left – right considerations of the day encouraged Cameron to compose an absolute answer to political economy from which his interest in metaphysics began. Camerongrew tired of leftish idealism and left politics to privately study philosophy to find the origin of absolute answer.

Original philosophy cannot be taught and absolute philosophy did not exist. There was no purpose in going to university. As it transpired, his instincts aligned with absolute idealism, and a natural absolute Idealist is the person least likely to benefit from academic tuition. In fact, the restart of philosophy that is implicit to Idealism, means tuition would be a hindrance.

There were three milestones in the development of Cameron's metaphysic. Chronologically they were:

1. conceiving the logic of political economy;
2. the systematising of my ontology with the aid of Jungian archetypes, and
3. the discovery of Hegelian dialectic movement.

Cameron's biographical facts are routine, ordinary – incomparable to intellectual moments like these. The logic of political economy was highly pertinent to his involvement in politics, an answer at a certain time and place. Ontology and archetypes met to create a moment when politics, psychology and Ideas formed a confluence in his mind. Finding Hegel contributed significantly to the historicism that naturally follows ontology, but there was also the euphoria of finding like-minded thinkers.

Cameron's life has been about making amateur philosophy from-the-sticks ready for a big stage.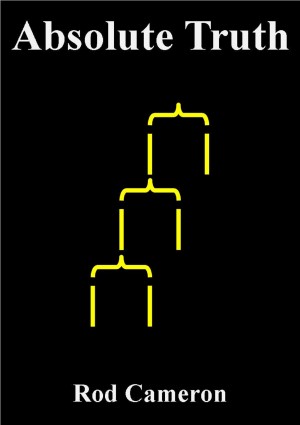 Absolute Truth 2nd edition
by

Rod Cameron
Absolute Truth involves synthesis, the ability to join concepts to build absolute Truths. Synthesis is achieved with metaphysical logic. This logic is the logic of the logos, the Reason and design of creation, the Truth of the Second Person of the Trinity.