Rodney Carlson
Biography
The son of a Colorado Farmer. At the age of twenty one I joined the Navy and became a Weapons Control and Information Systems Engineer onboard fast attack submarines. There I traveled all over the Pacific and Indian Ocean visiting many countries and gaining wonderful experiences. Not only did I get the chance to see different countries, but I did a lot of traveling around The U.S. It was my goal to visit every state, and in 2004 I visited my last state Florida. Since retiring from the Navy I have worked as a Computer Engineer for various companies in Virginia where I live with my best friend and wife of fourteen years. (Just so you know, best friend and wife are the same person! lol) I have always had a passion for the written word. I love to read most anything, but commonly gravitate toward science fiction and fantasy.
Where to find Rodney Carlson online
Books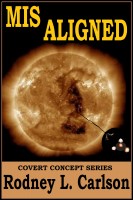 Misaligned
by

Rodney Carlson
Two alien races are struggling for dominance in a huge galactic war and earth is caught in the middle. A computer engineer discovers plans to use humanity in the battle. Can he stop it? How can one human possibly fight against an advanced civilization? With some reckless luck the planetary alignment on December 21, 2012 won't mark the end of mankind.
Rodney Carlson's tag cloud