Roger Daniel
Biography
Roger Daniel has a BA and MA degree in journalism from Texas State University and American University. In more than a decade in print, radio, and television news he has been a news director, anchor, producer, and reporter, writing more than 15,000 news stories.
Books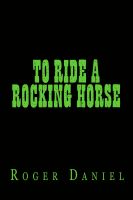 To Ride a Rocking Horse
All Linda May wanted was to get out of the house and have a little fun. However, she was not smiling when she stood over a grave and coldly pulled the trigger four times, killing four adults who knelt in the grave pleading for mercy. The only mercy she could find in her heart was for the two year old child, looking up at her in horror with tears streaming from his eyes.
Roger Daniel's tag cloud