Roland E. Williams
Biography
Roland E. Williams was born on Aruba, but moved to Sint Maarten when he was nine years old. At the age of seventeen he moved to The Netherlands where he studied and held a variety of professions. Roland has worked in the IT field for over thirty years, but has always been busy writing poetry and occasionally short stories. In June of 2016 one of his poems was published online at Leaves of Ink. It was the very first and only poem he'd ever submitted. Since then he's submitted more to others online. He has lived in Aruba, Sint Maarten, The Netherlands, and the Dominican Republic (twice), and currently lives on Sint Maarten.
Where to find Roland E. Williams online
Books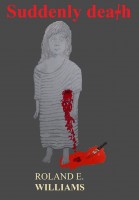 Suddenly Death
by

Roland E. Williams
This book contains four startling stories that all have one thing in common: death, wanted or unwanted. The first part of a fifth story, taken from the author's upcoming collection called Forgers, was added as a bonus. The stories range from rape to a simple game of kids playing baseball, with each story twisting and turning as it comes to its end.
Roland E. Williams' tag cloud