Carol Maginn
Biography
Carol Maginn was born in the watery city of Liverpool. She's lived in other places, including Sheffield, Manchester, Edinburgh, Rome and Kokopo, but is currently back in her home city. She's a solicitor and teacher, and is currently coordinating a new initiative, the Live Law Project.
'Ruin', her first novel is published by Crooked Cat. It is a contemporary dark comedy, and deals with the question of what to do with £33,000,000. Well....what would you do?
Her second novel,'Daniel Taylor,' is a pacy thriller set in Rome. It was published by Crooked Cat in May 2015, and has garnered five star reviews.
Her third novel, 'The Case of the Adelphi', a tale of the supernatural set in 19th Century Liverpool, awaits publication.
Her fourth, provisionally entitled 'Taking New York' and set in the 1880s, is under construction.
Books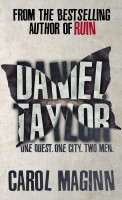 Daniel Taylor
by

Carol Maginn
The ring of the emperor Diocletian was lost long ago. However, a modern-day Russian oligarch is willing to pay whatever it takes to find and own it. He has hired an expert, Daniel Taylor, to track it down in Rome. Meanwhile, another Englishman, another man, a very different Daniel Taylor, has arrived to enjoy a holiday in the Eternal City. Their identities are mistaken in the quest for the ring.
Carol Maginn's tag cloud