Jessy Jace
Biography
I always liked to hear stories. At family reunions I lingered around the adults waiting for the storytelling to begin. I drove my grandmother crazy, because it is hard to tell the good stories when there is a child refusing to go play with the other kids. At Shoreline Community College I studied under Professor Carol Orlock, who inspired me to consider writing as a major and the glory of Rule #13. Eventually, I was introduced to her husband, Professor Jack Cady, who taught me about Rule #14. After my A.A., I transferred to the UW in Seattle where I was extremely lucky to study under Dr. Charles Johnson who taught me to Rule #15. I truly hope you enjoy the adventures of Malcolm, Beloved and Heather, plus friends.
Books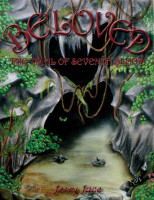 Beloved: Trial of Seventh Blood
by

Jessy Jace
What would make three friends attempt to survive the oldest and deadliest trial of combat known to the magic world? One wants justice. One wants the return of true love. The only human wants sweet revenge. Only through the Trial of Seventh Blood can they hope to regain all that was lost. Do or die, the next twenty-four hours will determine if they live.
Jessy Jace's tag cloud