Ron Chandler
Biography
Ron Chandler is a graduate of the University of Maryland Baltimore County (UMBC) and a member of the Writer's Center in Bethesda, Maryland. He believes that fiction should be multicultural and family oriented. His short stories and poems have been published in over thirty literary magazines including The Aurorean, The Binnacle (University of Maine at Machias), Blueline (SUNY-Potsdam), Capper's, Creative With Words Publications, Pink Chameleon, The Poet's Pen, The Road Not Taken, Storyteller, Tale Spinners (Alberta, Canada), Timber Creek Review, and Toasted Cheese. He welcomes your readership.
Smashwords Interview
Books
Neptune's Garden and Other Adventures
by

Ron Chandler
Price:
$0.99 USD.
Words: 52,710.
Language: English.
Published: August 28, 2017
. Categories:
Fiction
»
Adventure
»
Action
These 12 outdoor adventures will take the reader places they fear to tread from a scuba diver being chased by a great white shark to spelunkers trapped in a den full of rattlesnakes. Other notable adventures include a spooky canoe trip through the Okefenokee Swamp and hikers stalked by a black bear in Shenandoah National Park. This book gives a glimpse into the perils of the wilderness.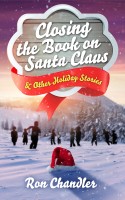 Closing the Book on Santa Claus & Other Holiday Stories
by

Ron Chandler
Price:
$0.99 USD.
Words: 54,000.
Language: English.
Published: October 14, 2014
. Categories:
Fiction
»
Holiday
»
Christmas
"Holiday Short Story Collection Speaks To The Heart" - Frederick Newspost...... This book contains 12 contemporary stories about Christmas. The title story is about a father who tries to save his daughter's holiday celebration after it is cancelled at her school. He organizes a rally at city hall, but unexpected calamity prevails.
Ron Chandler's tag cloud