Ron Warren
Biography
Formerly an Atheist, Ron Warren is now an Ordained Messianic Minister, Author, and Bible Teacher. Today he teaches the Scriptures from a Jewish context, applying Apologetics, Jewish, Church, world histories, and the Greek and Hebrew languages in churches and synagogues,
Books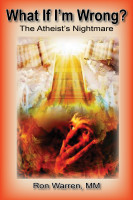 What If I'm Wrong, The Atheist's Nightmare
by

Ron Warren
This book opens doors to both the atheist and believer. It can change or destroy the atheist's foundation and consolidate the believer's trust in God. After reading this book, and as a member of the jury, answer these questions: Have we presented only circumstantial evidence or have we presented facts that can be tracked, studied, and tested by many sources? Last question: What if you are wrong?
Ron Warren's tag cloud