Ronny Herman de Jong
Biography
Ronny Herman de Jong, born and raised on the island of Java in the Dutch East Indies, survived four years in Japanese concentration camps during World War Two. She earned a B.A. in English Literature from Leiden University in the Netherlands and emigrated to the United States in 1972 with her husband, three children and their dog. Her mother's secret camp journal was the basis for her first book IN THE SHADOW OF THE SUN, published in 1992 and her memoir RISING FROM THE SHADOW OF THE SUN: A Story of Love, Survival and Joy, published in 2011. Both these books are currently out of print. On the occasion of the 69th anniversary of the end of the War in the Pacific, she published her third book SURVIVORS OF WWII IN THE PACIFIC. In 2015 a Second Edition of RISING FROM THE SHADOW OF THE SUN provided more post-WWII information and pictures and includes her mother's end of life. On January 11, 2017, Ronny released her fifth book, an ebook titled ANGUISHED. In January 2018 the Audiobook of RISING FROM THE SHADOW OF THE SUN became available for purchase. Ronny is an Honorary Professional Member of the SSA, the Society of Southwestern Authors and PWP, the Professional Writers of Prescott. She has been interviewed on Radio and Television shows in Arizona, Hawai'i, the Netherlands, and on SBS Dutch Radio in Australia. Her favorite things are dancing, traveling, reading, writing, walking, swimming and snorkeling. Her family, counting 7 grandchildren, always comes first. Her motto is: Reach for the stars! You may not actually get one, but you won't come up with a handful of mud either!
Where to find Ronny Herman de Jong online
Books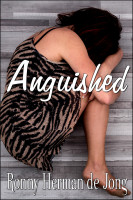 Anguished
by

Ronny Herman de Jong
In this haunting story of conspiracies and lies a daughter is being accused of planning to kill her defenseless old mother in a nursing home during her next visit.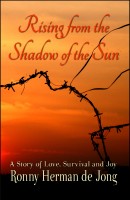 Rising from the Shadow of the Sun
by

Ronny Herman de Jong
Rising from the Shadow of the Sun brings the horror and losses of World War II on Java off the battlefields and military POW camps and into the world of Ronny Herman, who is barely three years old in 1942 when the Japanese conquer Java and force her family into prison camps.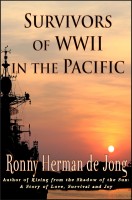 Survivors of WWII in the Pacific
by

Ronny Herman de Jong
Survivors of WWII in the Pacific is a collection of personal stories by victims and veterans of World War Two in the Pacific. Feeling that these stories deserve to be preserved as historical evidence of the suffering and heroic actions of civilians and military alike, Ronny Herman de Jong, a survivor herself of Japanese prison camps, gathered and edited these stories for your edification.
Ronny Herman de Jong's tag cloud