Ronsteinman
Biography
I am a journalist, filmmaker, and author. At NBC News I was a news editor, assignment editor, writer, producer and senior producer on Today, Sunday Today, Early Today, documentaries and for many news specials. At NBC News, I served as bureau chief in Saigon, Southeast Asia bureau chief based in Hong Kong and as bureau chief in London. At ABC News Productions I produced documentaries for A&E, History Channel, Discovery, and TLC (The Learning Channel.) As an independent filmmaker with Douglas/Steinman Productions, my films include, Luboml:My Heart Remembers, My Grandfather's House, I thought I Could Fly and The Dance Goodbye in release in the Spring of 2015. My books include The "Soldiers' Story," 'The Soldiers' Story:The Illustrated Edition," out in the Fall of 2015, "A Saigon Journal: Inside Television' s First War," "Notebooks," "Women in Vietnam," and a novel, "Death in Saigon." I was a columnist and executive editor for the Digital Journalist and The Digital Filmmaker. On occasion I write about media, film and photography for various online magazines.
Where to find Ronsteinman online
Books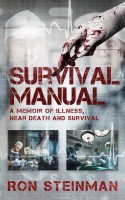 Survival Manual: A Memoir of Near Death, Illness and Survival
by

Ronsteinman
This memoir is my story of how I survived a near fatal illness, had many surgeries, spent almost 30 days in hospital, lived on pain killers and survived against all odds. During those days I recall many of my adventures in TV news covering stories around the world for NBC News. In some ways,it may inspire others to keep going when everything seems darkest.
Ronsteinman's tag cloud