E.B. Rose
Biography
E.B. Rose began writing short stories in third grade. Her first readers were a small group of classmates gathering around her desk every recess to read the story written in a notebook. She completed a BSc and a MSc in Psychology and continued writing fantasy fiction for her small audience of family and friends. Lion of Zarall is her first book published in English language. After finding her second passion as a Behaviour Therapist, E.B. works with children with autism and wakes up at 5am every morning to put several hundred words down before work. She lives in Queensland, Australia with her partner and spends her free time reading, writing, gaming and being a proud nerd.
Where to find E.B. Rose online
Series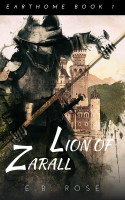 Books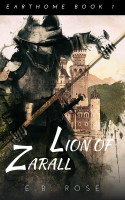 Lion of Zarall
by

E.B. Rose
He is King Leonis Zarall's champion Beast. A slave who is bred, trained, and raised to fight in the arena. He owns no name but Lion of Zarall and no purpose but to obey and kill. An expensive weapon, a perfect purebred, until the day he is given a new task; a task that would break his training and change him forever.
E.B. Rose's tag cloud