Roslyn McFarland
Biography
Roslyn McFarland is the author of "See No Sea" (currently available in both e-book and paperback formats) as well as the short story "Soldier Boy" (originally released in the Fall of 2014 in the NIWA Anthology), both Young Adult and Paranormal Romances.

In 2006 she was struck down by health problems, which progressed into full immobility over the course of six and a half years, undiagnosed. Going out of her mind via the enormous worry-frustration-pain-boredom combo she shouldered, Roslyn's solution and salvation came in the form of writing, as she expelled a childhood recurring dream onto paper. The completion of her first novel coincided with a diagnosis of Lyme Disease. Treatment and a cure quickly following cleared the way for editing and preparation for publication. God works in mysterious ways.

Roslyn currently lives in Oregon with her husband, two extraordinarily active and strong willed little girls (karma) and a house full of fur kids (cats and dogs, she doesn't expect the goldfish to last long).

She's nearly complete with book two and is already outlining book three of the No Sea Trilogy, both of which she hopes to release within the next year, also completing a YA Sci-Fi Romance Novella for the Paradisi world building project. Already amassing a lengthy list of future series ideas, Roslyn hopes to be able to continue turning dreams into reality for many years to come.
Books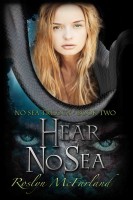 Hear No Sea - No Sea Trilogy book 2
by

Roslyn McFarland
"Greater hearts have been felled by a handsome shell containing a dark spirit." After nine months, Lee's return to Prince George, B.C. and the love of her life brings new friendships, an old nemesis, and fresh dangers. If she isn't careful, Lee's dream summer may turn into a perfect nightmare.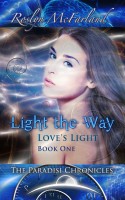 Light the Way : Love's Light Volume One, the Paradisi Chronicles
by

Roslyn McFarland
Losing her last remaining family member may be seventeen-year-old Neyve Colgan's ticket to life. The Paradisi Chronicles present: Light the Way: Loves Light Series book 1 A Young Adult Romance appropriate for teens, clean enough for tweens, and fun enough for adults. On a journey through space and time, enter the world of the Paradisi Chronicles.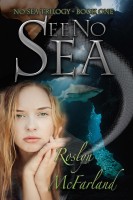 See No Sea
by

Roslyn McFarland
"…dealing with bullies was bad enough before they had hundreds of razor sharp teeth…" Lee's hidden her true swimming skills…until now. Summer training with an elite team equals drool-worthy boys, a feisty new friend, a venomous local Queen B...and Pete. Enticing Lee into a whirlpool of emotion, magic and mystery, someone won't be going home. Appropriate for Teens, Tweens & Hopeless Romantics.
Roslyn McFarland's tag cloud