Ross Bodle
Biography
DONATION - for the months of December and January, I'll be donating $1 from each book sale to the NZ Coastguard. Help support this worthy cause by buying Sea Gypsies.

I've been involved with boating most of my life and got the sailing bug the hard way, like most Kiwi kids, by crewing for the local Gisborne Yacht Club on the east coast of the North Island.
Back in the 1960s sailing dinghies were hard to come by so I built my own, from then onwards I've progressed and learnt the art of sailing and all that it involves.
After my college years in Gisborne I gained boat building experience in the old school of boat construction in the traditional style of building wooden vessels. Since then I've worked for professionals in New Zealand and overseas as boat building and design work has led to greater things, such as 'Peterborough canoes', the North American Indian-style craft named after the city where it was designed, also repairs to Dragon boats and Laser sailing dinghies for a firm called 'Patagonia Yachts' in River Street, Toronto, Ontario.
After returning to New Zealand, my work involved larger vessels such as the 'Spirit of New Zealand' and my last commission was 'Mari Cha III for 'Sensation Yachts' near Henderson in West Auckland.
Books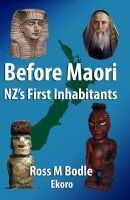 Before Maori - NZ's First Inhabitants
by

Ross Bodle
This book explores a variety of evidence pointing to a long-term pre-Maori inhabitation of New Zealand. It covers the movement of people from Africa, across Asia and down through the Pacific, tracing their route by demonstrating striking similarities of language and culture. Far from being divisive, the book encourages all native-born New Zealanders to think of themselves as one people.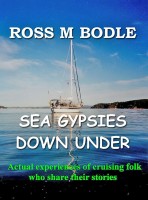 Sea Gypsies Down Under
by

Ross Bodle
(3.00)
A guide to life at sea. A collection of interviews with cruising folk who shared their own personal experiences. Some told of frightful events while others had wonderful relaxed voyages. There is a mine of valuable information about storms, pirates, shootings, shipwrecks, man-overboard, diving experiences and shark attacks, plus other helpful advice for those who want to go cruising offshore.
Ross Bodle's tag cloud