Ross Milburn
Ross Milburn was born in London during WWII, and grew up with the awareness that an unnecessary conflict between political elites had killed 60 million of the ordinary citizens who were forced to fight for them. "The horror of war set me on a lifelong quest to discover why human government is so bad, in spite of the intelligence, morality, and loyal nature of most individuals, and the ceaseless advances of modern science," says Ross.

As a technology writer, Ross has constantly been impressed by the achievements of industrial workers, especially production managers and IT professionals, whose utilization of science and technology is a foundation of our rising living standards. "How different are these industrial heroes from the politicians that create warfare, huge wealth differentials, devalued currencies, mindless bureaucracy, constant surveillance of their host populations, and industrial and social over-regulation that is both unjust and unproductive," says Ross.

Ross has lived part of his life in the UK, where he observed how the mushrooming power and scope of the state is strangling the economic and social life of the West. Since he moved to Hong Kong, Ross has witnessed at first hand the explosive growth of China and the rising living standards achieved by the Chinese people as a direct result of the reduced state control that followed Deng Xiaoping's adoption of market principles.

"As a family man, I believe that the normal human life-cycle is becoming much harder to complete in industrial societies, because all states act against personal autonomy and family values, and employ technology for futile inter-state competition. The distortion of normal human social organization is the ultimate cause of most of the systematic problems that confront humans today," he says.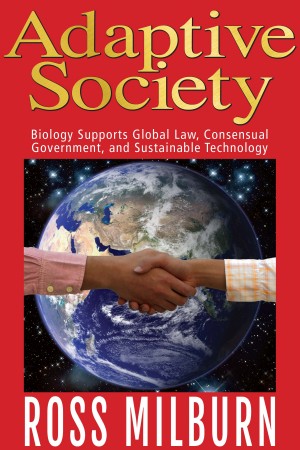 Adaptive Society: Biology Supports Global Law, Consensual Government, and Sustainable Technology
by

Ross Milburn
Adaptive Society explains why industrial civilization does not "fit" human needs and creates warfare, 80% of disease, extreme wealth differentials, dysfunctional families, dwindling childbirth, state corruption, and high drug consumption. Science can fix everything, but only if humans unite under natural global law, and revert to their naturally evolved, and decentralized, social organization.