Roxana M. Dumitru
Biography
Roxana M. Dumitru (born 17 August 1991) grew up in Bucharest, Romania, where she discovered school not to be the perfect place she expected, thus she turned to writing. With great pauses between, she's writing even today, with the exception of going out of her comfort zone on a daily basis (be it in personal matters or in writing). She recently discovered that life is not all that bad, especially when you partake in it with a book in your hand.
Where to find Roxana M. Dumitru online
Books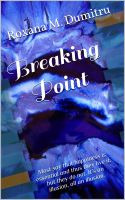 Breaking Point
by

Roxana M. Dumitru
You think you're all alone or you're happily living the life you only dreamt of, but truth be that pain has a way of conceding the circumstances, this way or that. You're going one way then the other, from one breaking point to another. So, what's your breaking point exactly?
Roxana M. Dumitru's tag cloud