Roy Haymond
Biography
Mississippi born, Roy Haymond played in the Charleston (SC) Symphony while in high school, did a hitch in USMC, and eked out a degree in Journalism at the University of South Carolina. He had a career as a classroom teacher in the Carolinas, supplemented income clerking at convenience stores, commercial tenor sax, cutting grass, writer and briefly editor of small-town weekly. Now retired, he lives in a rural village (Pop. 150 - no traffic lights or sidewalks) where he shares housekeeping duties with his second wife, a published poet. He writes, plays saxophone (in his dreams he is Lester Young, and he wows the ladies in retirement homes) and acts as neighborhood gofer.
Roy has some fifty short pieces placed in literary journals in seventeen states and Canada.
A Methodist attending a Baptist church, his political leanings are heavily to the conservative side.
Cites Joyce, Faulkner, Maugham, London and Ring Lardner as most admired stylists.
Books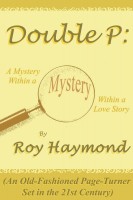 Double P: A Mystery Within a Mystery Within a Love Story (An Old-Fashioned Page Turner Set in the 21st Century)
by

Roy Haymond
Pete, a mystery novel writer, moves to rural Georgia with a false identity to escape his murky past. There he hires Nora to help him type his next book; however she has a past of her own, and neither of them are interested in romance. As Pete meets the locals and makes friends, Georgia unexpectedly begins to feel like home; and as Pete and Nora get to know each other the past gets harder to avoid.
Roy Haymond's tag cloud