Robert Stephen Carter
Biography
I was born in Austin, Texas, where I lived through WWII which my father spent on active duty in the US Navy; during that period my mother and an aunt shared parenting duty. After the war, my father remarried, to a granddaughter of John Henry Brock, thus creating the connection that led to the publication of "Judging Everyman." In between, I went to high school in Fort Worth, Texas, then spent four grueling years at the University of Texas at Austin, where Navy ROTC classes and summer training, plus part-time work left inadequate time to study, causing lots of scrambling in the form of correspondence courses, changing of majors (ending with math major and English minor) and other measures to graduate on schedule and receive a commission in the US Marine Corps. Graduation was followed by marriage, three years of active duty in the Marines, several years as a migrant worker in the computer programming field (one memorable occasion being that of, while on duty baby-sitting the operating system of the primary computer for a Gemini space mission, seeing the computer console spout smoke and flames, giving me the only opportunity I've ever known about, to pull a manual switch that transferred control of the mission to the secondary computer), seven children along the way without my wife ditching me (thank you, Patti!), and ever expanding realization of the vastness of my ignorance. Oh, well - life is a fascinating ride.
Books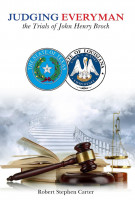 Judging Everyman: the Trials of John Henry Brock
by

Robert Stephen Carter
John Henry Brock was tried by the State of Texas in 1912 for murder in the death of his mistress one morning when the two of them were walking to breakfast in "Guy Town," the bawdy district of Austin, Texas. The episode was a tragedy for the two of them and their families. This book explores Brock's history before and after that trial. His trials and judgments may be emblematic for other lives.
Robert Stephen Carter's tag cloud