G Rubeniuk
Biography
I started writing 25 years ago and got side tracked by life, work, and music (among other things). When not traveling or working I love to spend time out doors fly fishing or exploring the back country on an ATV. I am an active IT professional currently managing a large team of amazing people in Calgary, Alberta. I have an amazing wife, who also loves to travel, and a sister in law that has become a big part of our life. We have 2 daughters that continue to amaze us with their brilliance and 5 rescue cats that never cease to entertain. I am currently working on book project number 2 of 5 that I have planned... more details coming soon.
Smashwords Interview
Books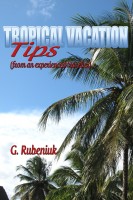 Tropical Vacation Tips
by

G Rubeniuk
Tropical vacation tips (from an experienced traveler) Is a book written to assist with all of things that you should know when preparing to go on a tropical vacation.
G Rubeniuk's tag cloud