Rudy Owens
Biography
Rudy Owens is a Detroit native who grew up in the Midwest and attended public schools in University City, Missouri, just outside of St. Louis. He spent most of his adult life in the West Coast states of Oregon, Washington, and Alaska. He has a professional background in communications, international relations, and public health. He earned a master's degree from the University of North Carolina at Chapel Hill in journalism and a master of public health degree from the University of Washington School of Public Health. Owens has worked as a reporter, editor, and political and public affairs officer for the Government of Canada. Owens also has worked in community-based public health in Washington State. Owens has been blogging about current affairs, policy, and public health issues since 2012. You Don't Know How Lucky You Are is his first nonfiction work. Owens currently lives in Portland, Oregon.
Where to find Rudy Owens online
Books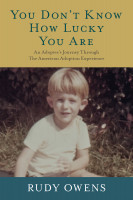 You Don't Know How Lucky You Are: An Adoptee's Journey Through The American Adoption Experience
by

Rudy Owens
Rudy Owens's memoir, You Don't Know How Lucky You Are, weaves his successful journey of self-discovery as an adoptee with public health, historic, and scientific research. His quest for his identity and justice reveal how biology, kinship, and discrimination still shape the U.S. adoption system, one of greatest social-engineering experiments in U.S. history.
Rudy Owens' tag cloud