R.W. Hutchins
Biography
R.W. Hutchins is an educator with over 12 years of teaching experience at the high school level in New York, Massachusetts and California. Before going into teaching, she was Director of Internet Services for Informa Group PLC in London where she led a team of over 40 people in the field of content management in 47 countries. Moving from the tech world to the education world was a huge shift in her focus, but that was not the biggest change. Moving from teaching to parenting was by far her largest shift.. She is a stay-at-home mother of two preschoolers. She and her husband of five years also run a family business. She has a BS in Chemistry from RIT, and an MS in Educational Administration from St. John Fisher College. She loves to write and has been writing fiction and non-fiction for more than 20 years.
Books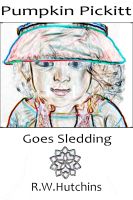 Pumpkin Pickitt Goes Sledding
by

R.W. Hutchins
Pumpkin Pickitt, a 3-year-old girl genius, helps her family keep warm during a snowstorm. And she gets to go sledding too! This is a perfect bed time story to read to your little ones.
R.W. Hutchins' tag cloud