Ryan Williams
Biography
I was born in a small town in Pennsylvania, I went to college in an even smaller town in Pennsylvania. From there I moved to a moderate sized city in the south. My plans are to move back north as soon as possible. My favorite authors are Stephen King and Bret Easton Ellis and that's why I write the things I do. I could try and give you some kind of complicated artist's statement where every other word is something I picked out of a thesaurus to leave you scratching your head saying, "I don't understand that, he must be a better writer than I am," but I'm not in art school anymore.
Where to find Ryan Williams online
Books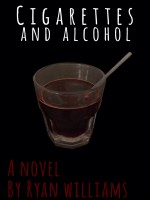 Cigarettes and Alcohol
by

Ryan Williams
Jason, a hard-drinking, recent college graduate, hasn't quite figured out what to do with the next part of his life. Stuck in memories of the past and the endless drunken nights of his present, reality soon begins to unravel in this psychological thriller as he sinks into madness or something far worse.
Ryan Williams' tag cloud