JK Roos, Jr
Biography
This author is a semi-retired Financial Executive and Consultant who is quite familiar with the significant aspects of the present tax code even though he has never participated in the "Taxation Industry" for remuneration. He has always prepared his own individual and business tax returns. His business, which was established in 1982, is engaged in highly specialized financial and consulting services other than taxation while currently specializing in creating Unique Marketing Concepts, Unique Profit Concepts and Unique Governing Concepts. In view of the foregoing perspective, it is a privilege and a pleasure and to be counted among the few creative people who are in the enviable position of being able and willing to offer the best alternative to the present tax code.
Books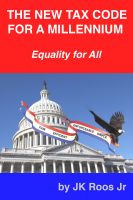 The Tax Code For A Millennium
by

JK Roos, Jr
The Tax Code for a Millennium presents a Remedial US Income Tax Code that is expressed in less than 25 words. This Tax Code will always be Fair, Efficient, Enforceable and Simple. Since the author does not dwell on what is obviously wrong with the present tax code, this enlightening book is a "Quick Read". The focus is on a realistic remedy.
JK Roos, Jr's tag cloud