SAMPSONpublishers
Publisher info
Best known as the author of Africana, Sampson Ukwu is the author of five published books including the public speaking guide How to Perform Wonders with Your Mouth. He is an entrepreneur, educator, business consultant, blogger, motivational coach, poet, and preacher whose core message is that the core thing separating us and our worthwhile desires as individuals, families, fellowships, organizations and nations is ignorance. He is the Director of Waec 10,000, an N.G.O dedicated to raising the standard of education, and eliminating malpractice.
Where to find SAMPSONpublishers online
Books
Write And Grow Rich
by

SAMPSONpublishers
(5.00)
The goal of WRITE AND GROW RICH is to increase the COMPETENCE and PROFITABILITY of anybody seriously interested in mastering the art and business of writing and global publishing.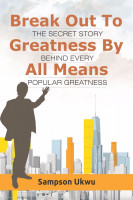 Break Out To Greatness By All Means
by

SAMPSONpublishers
Whether you're still caged by poverty, lack of direction in life, poor habits, feeling of insignificance and overall backwardness in life, business, career, organization, family, fellowship etc, or you're already enjoying the fruits of real greatness, Break Out To Greatness By All Means will help you begin the inescapable journey of breaking free from those tough and intimidating challenges.
SAMPSONpublishers' tag cloud