Jamie Green
Biography
Jamie Green was born in Brooklyn and raised in Far Rockaway on the banks of Jamaica bay, where he gained a deep love for the world of living things. He received a BS degree in biology from CCNY and subsequently completed graduate studies in the fields of microbiology and both physical and cultural anthropology. He taught high school science for 37 years, specializing in the fields of biology, marine science, anthropology, archaeology, and human evolution. He also created curricula in elective programs for all of these subjects for both classroom and independent study, and wrote numerous text materials, articles, museum guides, lab manuals, and classroom hand-outs. Jamie has collaborated as Consultant/Writer for the Museum of the American Indian on "The Native People of the Northeast Woodlands," a Teaching Kit which was later published, and has appeared a number of times in the Queries and Comments section of Biblical Archaeology Review Magazine. As a teacher he created and coordinated a number of Independent Study and Student Mentor programs which enhanced the educational experience of the students. In 1993 he was voted Teacher of the Year. After his retirement in 2000 he began teaching to retired teachers and spouses in Staten Island where he continues to teach subjects in biology, anthropology, archaeology, ancient history and human evolution up to the present day. Some of these courses have included History of Life on Earth, Natural History of the Galapagos Islands, Animal Behavior, Emotions and Intelligence, Dinosaurs, Human Evolution, Primatology, Life and Work of Jane Goodall, Study of Whales, Biblical Archaeology, Pompeii, The North American Indian, and Ancient Rome. In addition, he is an Independent Lecturer for several organizations on Staten Island. Jamie Green resides with his wife in Staten Island and has two children who are college math professors, one grandchild, and you guessed it, 2 cats.
Books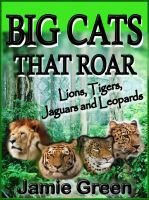 Big Cats That Roar - Lions, Tigers, Jaguars and Leopards
by

Jamie Green
This concise book is filled with fascinating information and generally unknown facts about lions, tigers, jaguars and leopards (the big cats that roar) that everyone of all ages can appreciate.
Jamie Green's tag cloud