Steven Allan Wheelock
Biography
A human mission to Mars, involving all countries capable of starting an all-out nuclear war, may possibly aid in the prevention of an all-out nuclear war---a worldwide trimming of military budgets could even pay for the mission. In other words, the author (yours truly) has his impossible dream on how to save the world ... and the author hopes you were amused by it.

All Quiet on the Western Front (1930) may be the greatest movie I've ever seen, but Robinson Crusoe on Mars (1964) is my all-time favorite movie.

Edmond Hamilton's Starwolf trilogy---three short novels---gave me the greatest reading entertainment I've ever had. In an attempt to learn how to write, I typed out, verbatim, Edmond Hamilton's Starwolf trilogy.

The reader should be able to contact me by email at swheelock78@yahoo.com

Thinking of two songs---Star Crossed Lovers (Mystics) and Stardust (Hoagy Carmichael)---allowed me to come up with "Star-crossed to Star Dust" as the title of my novel.

I have pins at https://www.pinterest.com/swheelock78/pins (mostly links to old music).
Books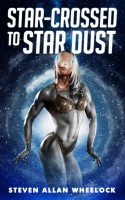 Star-crossed to Star Dust
by

Steven Allan Wheelock
The novel's cover image depicts bikini-clad Padparadscha playfully flexing her muscles on her wedding night. While orthodons and humans interbreed, a cruel star-civilization plots to render orthodons and humans extinct. It was a backwater era of interstellar warfare funded by fiat money essentially created out of thin air. The main character would be a man named Mole, who would find....
Steven Allan Wheelock's tag cloud