D. Blakesley Falt
Biography
Born in San Francisco, D. Blakesley Falt (Blake) is a graduate of California State University San Francisco with a BA in Theater Arts. He lived in Hollywood for some years, working in film, TV and stage before relocating to Tokyo. After years of hard but enjoyable work in Japan's entertainment industry, including eleven years on a daily TV program, a national monthly magazine declared him a "Tokyo Super Star". Blake speaks fluent Japanese and French. He has traveled extensively throughout the world and has written several travel and music articles for various periodicals.
Books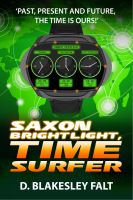 Saxon Brightlight, Time Surfer
by

D. Blakesley Falt
Recruited into the society of Time Surfers, Saxon Brightlight, with her two time traveling buddies, surf to past eras and meet historical figures. When Sugar Boy jumps into a "hot zone" and is unable to return, Saxon and Firetop go after him. Though bloodied in battle, they agree to jump into another hot zone as a preemptive strike against the brother of the time-rogue whose death they caused.
D. Blakesley Falt's tag cloud