Stephanie C. Fox, J.D.
Biography
Stephanie C. Fox, J.D. is a historian, writer, and editor. She is a graduate of William Smith College and the University of Connecticut School of Law. Ms. Fox has written several books on a variety of topics, including the effects of human overpopulation on the environment, the economic meltdown of 2008, Asperger's, and travel to Kuwait and Hawai'i. She runs an editing service called QueenBeeEdit, which caters to politicians, scientists, and others. Her areas of interest include – but are not limited to – women's history, biographies, women's studies, science fiction, environmental studies and environmental law, human overpopulation, international relations, Asperger's, and cats. She is currently at work on co-authoring the political memoir of an Iranian woman Reformist politician.
Where to find Stephanie C. Fox, J.D. online
Books
Nae-Née - Birth Control: Infallible, with Nanites and Convenience for All
by

Stephanie C. Fox, J.D.
Nae-Née confronts the major taboo of our time: human overpopulation. Our planet's ecosystem is being stressed to the brink of collapse. Nanite technology has advanced to actual, practical use. Nae-Née is a nanite birth control device that contains a life-time supply of super-concentrated RU486. Every birth must be licensed, and not everyone shall be granted one.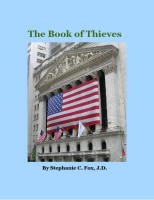 The Book of Thieves - Stephanie C. Fox, J.D.
by

Stephanie C. Fox, J.D.
The Book of Thieves is the story of how a greedy few destroyed a nation called Oblivion. Oblivion was once a great place to live and work in, with excellent laws to protect everyone who worked there, and to keep conditions fair for them. Not anymore. A greedy few called Gangsters cheated and stole after working harder at getting the rules changed and finding ways to simply ignore them.
Stephanie C. Fox, J.D.'s tag cloud