S. E. Roberts
Biography
S. E. Roberts is a writer living in Central Florida, who enjoys reading, writing and exploring the great outdoors - which is insanely difficult with a husband and two small children, but worth the huge grins. When she isn't writing or brainstorming, she's juggling a billion other projects, painting, crafting, or binge-watching TV shows she's rewatched like 4 times (can someone say The 100?). Otherwise, she is pursuing a Bachelor's degree.
Where to find S. E. Roberts online
Series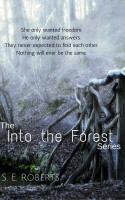 Into the Forest
by

S. E. Roberts
She only wanted freedom. He only wanted answers. They never expected to find each other. Nothing will ever be the same. Harlow wasn't like everyone else - she never had been - but, she never thought that people could hate her enough to try to force her into a loveless marriage. With no where else to go and afraid for her future, she flees to the one place she knew she'd be safe - as long as they thought she was a man. Enders Hode had one goal: get answers from his past. He never thought he'd end up mentoring someone in Robin Hood's outlaw camp - much less the son of a prominent advisor to Robin Hood himself. He couldn't have even imagined that his new shadow wasn't a Henry McBride, but a Harlow McBride. Turns out both of them are harboring secrets - the kind that could destroy lives.
Books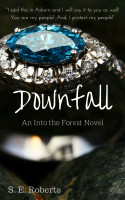 Downfall (Into The Forest #3)
by

S. E. Roberts
I've returned to camp, but I'm not the same. I've faced too many odds, seen too much blood, and too many deaths to give up on freedom now. King Wesley is after me and he'll stop at nothing to capture me - for god knows what reason. My outlaws and I are racing against time, trying to find people who don't want to be found, fighting enemies that never relent, and hoping for the best.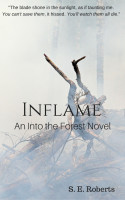 Inflame (Into The Forest #2)
by

S. E. Roberts
"We don't choose who we are born to, only who we become." Sherwood has never been more dangerous. But, neither have I. After returning from a four-month excursion that lead to nothing but dead ends, I'm back in Sherwood, where I left Enders, my father, and everyone else. I thought facing them was hard enough. Turns out, facing the truth is much harder - not to mention deadly.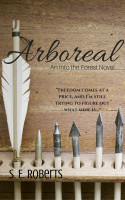 Arboreal (Into The Forest #1)
by

S. E. Roberts
I never wanted this: to have to pretend to be something I'm not. But, when my future was threatened by the village drunk and troublemaker, I had nowhere to go. So, I fled to the only place I knew I could be safe, even if I had to lie to stay: Robin Hood's camp in Sherwood Forest. I'm going to make my father's legacy proud and secure my own freedom while I do it. Or, I'll die trying.
S. E. Roberts' tag cloud
S. E. Roberts' favorite authors on Smashwords


Smashwords book reviews by S. E. Roberts
The Island on July 15, 2018



This review was originally published on https://serobertsblog.wordpress.com/ and contains SPOILERS. SPOILER AHEAD: In short, it was a beautifully crafted, sweeping fantasy full of struggle and overcoming obstacles. I thoroughly enjoyed the well-crafted characters and finely executed themes. 5/5 Stars! ❤ What did I Lo0o0o0o0o0ove?: If there are two kinds of heroes that make me want to stay up deep into the middle of the night with blood-shot eyes, holding onto my nook like it's a life-preserver, it's tortured souls. That's not an official type of character, but that what I call Theo. Tortured souls are like anti-heroes and reluctant heroes, but Theo is neither of those. She's willing to do what needs to be done to survive; she hides her pain deep down and tries not to get close to anyone else. "And to save my own heart, I'd stopped learning their stories, stopped learning their names-…It didn't matter though; the pain was the same." She was placed in the military at twelve years old, an orphan, who knows how to butcher a fluffy, cute rabbit. She doesn't want to fight. She wants freedom, she wants to love. But, she'll fight because she knows what pain is and it's necessity to freedom of her people. Her soul is tortured -> Tortured soul. She's a perfect leading role. Strong Female Lead! ❤ In the beginning, there is symbolism of a phoenix rising from the ashes. By the time we finish the book, we realize that the Raven government is just as deluded and corrupt as the Kylaen king. So, I suspect that this is a reference to Galian rising from under the thumb of his father's rule at the end of the book. His defiance is Katniss-Everdeen-style: "Boy, when the king of Kylae addresses you, you answer yes, sire,"… [Conversation about King Grieg's expectations of Galian, and Galian calling him out on leaving Galian on the island and pushing him back into the military.] "Did you help that woman escape?" "Yes, sire," I said with a flourished bow before storming out of the family room… What a sassy princeling. Theo's flaw. The crisis in a story usually happens when the protagonist's flaw is challenged directly, and that flaw is something that the character must overcome at the climax. Theo's flaw shows a vulnerability that we can't see in the first act. In fact, I couldn't find it at all until we were well into the second act. She's such a thick-skinned person that getting to the heart of her vulnerability is hard to find, even among the inner monologue we get from her. Simply put, she is over-confident and believes she can handle everything herself. For example: The princeling had gained some distance while I was losing his contingent of bodyguards, and I put on a burst of speed to follow him. "Stand down. This one's mine." When she winds up in the death camp at the end of the book, she realizes she can't escape without help, and has to rely on Galian and Kader. So, she overcomes that over-confident, work-alone ideology. Galian's own flaw is a lot easier to find: he's a pampered prince and has a naivety thinly veiled as "infectious optimism." He overcomes that at the end when he faces his father about his father's sins against him and the Raven. Not an optimistic word to be found there, and all confident truth. There are a lot of themes and parallels so expertly woven together throughout the whole book. Survival, love, war, loss, pain – all of these are major themes. But, we also find rebirth, mistakes, and kindness as lesser themes. My favorite parallel of recurring themes is a combination of two instances as follows: "And I suppose you've never made a mistake in your entire life?" He asked me. "Not one that made the papers." [160 pages later] "Today, I'm here in the hospital room of one of the many brave pilots in our Raven fleet, Captain Theo Kallistrate." He paused to gesture to me in the bed, and I wondered if I should wave or something… [She's being pushed in front of the cameras to push an agenda, and she doesn't like it.] What did I not love so much?" You know that "I'll leave you here for 30 minutes while I go eat and clean up because we've been stuck on a deserted island for two months," trope? Yeah, me either. But, I hate it. I hate it so much, it hurts my soul.