S K Emory
Biography
Sid loves her romance with a fantastical flair, and whether it's exploring new kinks in the pleasure gardens of a distant planet, coming face to face with their enemies in a magical blizzard, or winding up at the mercy of a demon, her characters always have the time of their lives!

When she's not writing, you can find Sid running, drinking far too much coffee, or, she hopes, curled up with a good book in front of a cozy fire, with a glass of wine.

If you have comments about any of Sid's stories, or want to see more of any particular character, she hopes you'll email her to let her know: sidkemory@gmail.com You can find her at twitter (@sidkemory), facebook, and wordpress (skemory.wordpress.com).

Happy reading!
Books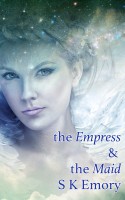 The Empress & the Maid
by

S K Emory
Aurelie has worshipped Ysolde since they first met. Ysolde is beautiful, elegant, everything Aurelie wants. There's just one problem: Ysolde is the Empress of all Ytherea, and Aurelie is only a maid in waiting. Aurelie resolves to stand aside, and never show her desire,but tonight the eve of the new year, when all is possible and nothing is forbidden...
S K Emory's tag cloud