Kyle Owens
Biography
Kyle Owens lives in the Appalachian Mountains and his work is available at Fiction Lake ("The Horror Files of Dr. P.J. Honeywell"), Alfie Dog ("Testament"), Books to Go Now ("Night of the Sky People") and over 20 other sites.

His experimental novel, "A Bend of Shadows," has been published by Flare Font Publishing and is now available for purchase.

His script, "Maze", has been adapted into the screenplay, "Eden Heights" and will be starring Julienne Davis ("Eyes Wide Shut") and be directed by Emmy and Bafta winner Graham Theakston ("The Politician's Wife"). They are currently shopping it around Hollywood.

His mockumentary, "Fairfield Music Festival" is scheduled to go into production in 2013 in Nashville and will be produced by NuConcepts Productions.

He has two comic book stories due out in 2013 from GrayHaven Comics ("Johnny Dreams" and "Action Boy").
Books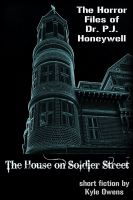 The Horror Files of Dr. P.J. Honeywell: The House on Soldier Street
by

Kyle Owens
A patient comes to Dr. Honeywell afraid that he might be showing signs of dementia. But when Dr. Honeywell sees strange shapes and shadows for himself, he understands that it isn't dementia his patient should worry about. What becomes of science and faith? What becomes of a rational mind when it witnesses the darkness move?
The Horror Files of Dr. P.J. Honeywell: The Vampyre
by

Kyle Owens
Dr. Honeywell's newest patient is a man who claims to have a craving for human flesh. When the city is turned into a buffet, Honeywell knows he has to offer himself as the next entree to draw the Vampyre out.
Kyle Owens' tag cloud