Saima Ashraf
Biography
Saima Ashraf, MD. FACOG is a board certified OBGYN physician practicing in Erie PA, USA at Magee Women's Specialty, University of Pittsburgh (UPMC) Hamot. She is a clinical Assistant Professor at UPMC. She is a fellow of American College of Obstetrics and Gynecology (ACOG). She is certified by American Board of Obstetrics and Gynecology (ABOG). Her primary practice involves Obstetrics, benign Gynecology, Minimally Invasive Laparoscopic Gynecological procedures. Her hobbies include travel, spending time with family.
Books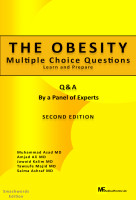 The Obesity Multiple Choice Questions Learn and Prepare (Second Edition)
by

Muhammad Asad

,

Amjad Ali

,

jawaid kalim

,

Tawsufe Majid

, &

Saima Ashraf
This is a short book which gives an opportunity to the readers to practice multiple choice questions on the subject of obesity. The format of the book is simple. It helps the reader to understand the content easily. Short critique and citations follow most questions. This book can be finished and revised in just a few sittings. An attempt is made to cover the most relevant topics.
Saima Ashraf's tag cloud