Cheryl Kayahara-Bass, Ph. D.
Biography
Dr. Cheryl Kayahara-Bass is a Christian philosopher whose primary areas of study are Augustinian philosophical topics, cosmology and philosophy of science. Her dissertation was entitled 'God, Time and Causality, and the Possibility of Time Travel'; a two-part study, first of the history of the conception of time from the early Greek philosophers such as Thales and Heraclitus, through the new understandings of the early Church such as Augustine, then progressing through the nuanced cosmological explorations of the Medieval period that led to modern science, and culminating in the revolution of Einstein's theory of relativity and beyond. The second part explored the nature of spacetime as it is understood in contemporary physics and causal theory, and its implications for the hypothetical possibility of time travel in philosophical, logical, theological and scientific terms (Ph. D. in Philosophy and Intellectual History, Trinity Sem./U. of Liverpool, Summa Cum Laude). Dr. Kayahara-Bass has written extensively on philosophical topics, always in a context of biblical Christian faith, and always gathering in the adventure of human thought and reason back to the judgments and precepts of Holy Scripture.
Books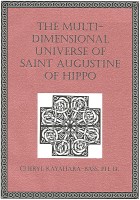 The Multi-Dimensional Universe of Saint Augustine of Hippo
by

Cheryl Kayahara-Bass, Ph. D.
Saint Augustine of Hippo is best known for his conversion to Christianity, hearing the 'little voice' that spoke to him in the garden. He is also one of the most far-reaching intellects and greatest souls in Christendom, leaving us a legacy of sound thought on a multitude of matters, such as time and space, nature, and how the soul knows the God Who made it, which this book seeks to unify.
Cheryl Kayahara-Bass, Ph. D.'s tag cloud