Samit D'Cunha
Samit D'Cunha is from Montréal, Canada. He graduated from law school at American University in Washington, DC and is a member of the New York Bar. He has an LL.M. from the Geneva Academy of International Humanitarian Law and Human Rights, and currently works at an international NGO in Geneva. His studies and work related to international law have also taken him to Bosnia, the Netherlands, Israel, Palestine, Sri Lanka, and Ukraine. Samit also studied at the United Nations University in San Jose, Costa Rica. When he isn't writing or talking about international law, he likes to travel, ski, hike, and scuba dive.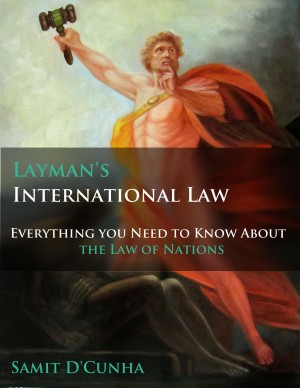 Layman's International Law: Everything You Need to Know About the Law of Nations
by

Samit D'Cunha
"Layman's International Law" is a one-of-a-kind guide designed to teach anyone the basics of public international law. Marked by a thorough and entertaining presentation of the complexities of international law, this book is ideal for people who have not previously studied law, people wishing to learn more about their rights under international law, or people entering the world of diplomacy.