Sam Q. Adams
Biography
Sam Adams lives with his wife Stephanie and son Jack in a very large, very old house in southeastern Massachusetts.This provides Sam with an ample "To do list". It is with personal pride that he has taken an oath to not let this three hundred year old house fall down during his watch.
When he is not working on his "To Do" list, or attending IEP meetings and therapy sessions, he likes to sail either of his two kayaks down the Slocum and Westport Rivers to the sea.
Sundays are dedicated to doubles tennis where he has staked out a small area of the court, formerly dubbed his: "Area of Responsibility" from which he has vowed never to stray. That pressure proved to be too great and he has since downgraded that area to the "Cone of Concern". Following tennis, he races to Services at his Unitarian Church where he gets to measure how far or how near he is to what is generally accepted as reality.
Books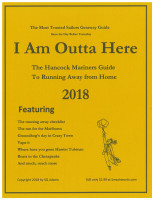 I Am Outta Here The Hancock Mariners Guide to Running Away from Home
by

Sam Q. Adams
Sam and Steph have struggled to help their high functioning autistic son, Jack who viewed his 18th birthday as an emancipation…an opportunity to jettison every program his parents had set up to help him. The resulting stress propelled Sam to seek an escape. The book chronicles the misadventures of an epic road trip from Robinhood, Maine to Key West Florida to find the perfect live-aboard boat.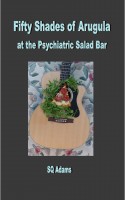 Fifty Shades of Arugula at the Psychiatric Salad Bar
by

Sam Q. Adams
This book is a diverse collection of short satirical pieces. There are rants against the Social Security Admin ; the customer service of Comcast, the perks of being a monopoly and a story about the shared horror of a trip to the RMV. Stories of life experiences include my first visit to an ashram: being one of the last people on earth to get a cell phone; and a trip to the Nervous Hospital.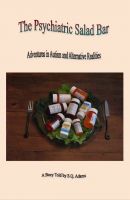 The Psychiatric Salad Bar -Adventures in Autism and Alternative Realities
by

Sam Q. Adams
(4.33 from 3 reviews)
One night, Sam hits the Facebook friend button and begins an email odyssey with a long lost daughter. Through these exchanges, we learn about her life, Sam's and his ongoing struggles with his high functioning autistic son, Jack. These challenges seem to have intensified over the years and he yearns for a break from bizarro world. Could this "friending" portend an alternative reality?
Sam Q. Adams' tag cloud