Samuel St Nicholas
Biography
My name is Sanuel St. Nicholas and I come from Melville Island in the Nunavut Province of Canada. I am a descendant of Saint Nicholas, and our family is responsible for most of the myths and legends surrounding the Christmas icon known as Santa Clause. Santa is known by many names throughtout the world, such as Kris Kringle, Sinterklaas, Father Christmas, Papa Noel, the names go on and on in different regions of the world, We all come from the Antares tribe west of the Black Sea over 1,300 years ago.
I have left to explore the world, as many of us do, and am working to make the world a better place. I approached the Antares Tribal Council and brought my concern that children and many adults have lost the sense of wonder about and spirit of Christmas, and was allowed to share this explaination about who it is that we are and what we do to. I am limited in just how much I can explain because some things must remain secret and we must remain hidden, but these are some of the secrets and hidden truths about who we are, what we do, and what our role in history has been.
Christopher St. Nicholas the Tenth is the current St. Nick, or Santa... He is my uncle. I am working under an assumed name to hide my identity. One day I will return to my clan and tribe, and may even do the work of a Santa myself. Until then, while I am in the world, I work to make the world a better place for all.
Books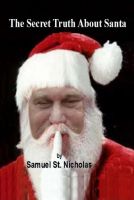 The Secret Truth About Santa
by

Samuel St Nicholas
There are historical truths about the St. Nicholas family which are the root foundations to the myths and legends surrounding St. Nicholas and Santa Claus. In these pages I have attempted to explain as much as I can about my immediate family, clan, the Antares tribe, and how we have worked for the betterment of humanity for over 1,300 years.
Samuel St Nicholas' tag cloud