Sandifeet
Biography
Sandifeet A Thursday's child who "has far to go", based on the Olde English rhyme. She is still unsure how far that is...Sandie is a compulsive traveller who has now decided to write something down. " The Last Boomer Rides On" is a light hearted travel tale written for others to enjoy.

Having travelled since the age of 19 now at 57 she still enjoys the journey rather than the destination as you can read in her new book . If you have guts, courage, not too much fear and a sense of humour you too can do it!

Unable to face the reality of conforming she now lives out of a leather rolling bag, drinking beer and having fun around the world.
Books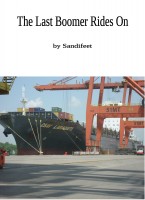 The Last Boomer Rides On
by

Sandifeet
(4.00 from 1 review)
A book without war or violence, written by an older fun loving lady. An adventure on 2 continents and oceans with some sex when the wrinkles of age are forgotten. A lesson in how to have fun, enjoy life seeing the world on some very different forms of transport including a passage on a container ship that passes through the Panama Canal. Some naughty words and lots of photos are included.
Sandifeet's tag cloud